BHI program saved a child's life in Aweil north
Madam Mary Amir Kuot is a 25 years old single mother of 4 children who live in Malual West Payam, Majak Bai Boma, Warayet Village in Aweil North. She shared about a day in December around Christmas her 4 months old baby woke up very well. The whole day the child was fine, breastfeeding well and not crying abnormally. In the night, she woke up and found that the child's body was hot and the child was crying a lot. "I thought this child was going to die because the breathing was so rapid, body was very hot and child was restless", she said. She said she started planning to take the child to the hospital which she was not even sure if she would get someone. Then she remembered that someone registered her and introduced himself that he has drugs and sick children should be taken to him. She decided to give a trial there since it was near. She rushed with the child to the BHW's home. She knocked the door and they opened. She introduced herself and the BHW gave her sit. "He entered in his room and brought out his things, asked me some few questions, I responded. He started working on the child. After a short while he said the child has chest infection (Cough) and Malaria. He told me that he has the drugs. He went and brought two types of drugs. He told me how to give it to the child. Also he told me to buy a drug called Paracetamol in the morning. He gave the drugs to the child and said you can go home now. In the morning, the child was looking better and can breastfeed now. I bought the drug he told me and after one day my child opened his eyes. He saved my child's life that way" Mary said in a voice of calm and misery. She said the program has come like a savior in the community.
BHI Program Leads to Reduced Childhood Illnesses and Facility Visit in Raja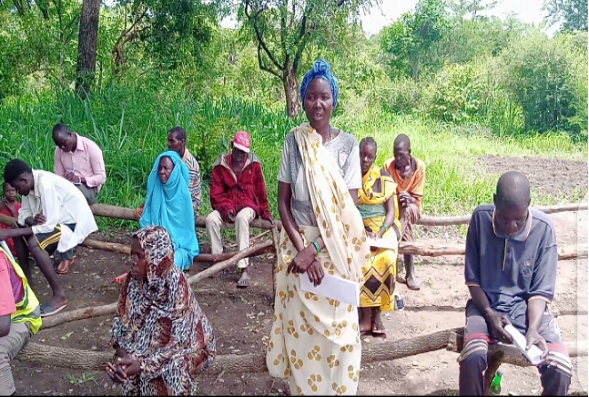 According to Rikela Jamus Apon, a female representative of Bambara Boma, their children no longer fall sick often or get diarrhoea frequently because the medications received from the BHWs (Boma Health Workers). She appreciated the HPF project and the government for opening their eyes and bringing the services nearer to them. Below are her words.
"God bless you so much for bringing this program and for opening our eyes. The BHWs that you took for training have returned back are doing a great work and saving the lives of our children. Now we don't have to take our children up to raja hospital because of this small diseases"
The sultan of Bamabara Boma also appreciated the BHI activities so much in his words below.
"Now in our location, children are just playing and no more disturbance from illnesses like before because any sick child will just be taken to the home of Osman and Christine (the BHWs in Bambara Boma) and the treatment is over. Diarrhoea used to disturb our children a lot, but now Wahid hubbub bita ishal towali ishal wogif (only one tablet of zinc if given to the child stops diarrhoea immediately). Am thanking TPO and IHO a million times for this program that has never happened in our community"